I swear I am not trying to make this a series. I simply couldn't resist these.
An anti-MLM account I follow posted these. There are two things MLM sellers are good at: shaming, and having zero shame. Right now, many are using the response to the coronavirus pandemic to try to recruit people into their schemes. They're notorious for using 9/11 and close family members' deaths, so I can't say I'm shocked.
These particular posts caught my eye not only for their attempt at shaming and their audacity, but the sheer entitlement! I am no angel, but if I ever speak like this, I give all my loved ones explicit permission to smack me in the head until I regain common sense. Or until I lose consciousness. Whichever occurs first.
At the same time, it's hilarious. Remember, these are people who claim to run their own business. Even if what they do was legitimate, who would want to work with a business owner who behaves like this?
Clearly, this person has never heard of payment plans. Also, the only company with a phone that expensive is Apple, and even that applies only to their latest phone, the iPhone 11 Pro. The phone's price is dependent upon how much space you choose. Speaking for myself, my smartphone was $200, but smartphones nowadays can cost as little $30. Technology marches on.
Mentioning Starbucks is common and I'm really eager to know who buys Starbucks every day. No, that's not sarcasm. I hate coffee, so I guess the equivalent for me would be chocolate, but even I can't eat chocolate every day. I'd quickly grow sick of the taste. But if someone really is buying a $7 cup of Starbucks every day, I'd imagine that $210 a month isn't putting a dent in their wallet. In other words, they probably don't need extra income and aren't seeking it.
This one could be a good message if it weren't to promote MLM! There is a lot to unpack in this one.
Healthy groceries ($100) "too expensive"
Dinner date ($100) "reasonable"
Maybe to someone who makes $50K a year after taxes. My boyfriend and I went out many times prior to lockdown. The bill never hit $100. Also, I'm sure most people wish their families ate only $100 a month worth of groceries! I'd love if mine did! I buy $100 worth of groceries and they're gone in a week. I'd save a lot of money if eating weren't a necessity.
Therapist ($130) "absurd"
Trip to Target ($130) "great deals!"
Yes, it is absurd some people can't get mental healthcare because they can't afford it. To my knowledge, some insurance will cover it, but it can be a fight. That is a shame. As for Target, or any big box store, if you need things like appliances and furniture, getting those things for $130 total really might be a great deal! I found a sturdy dresser with seven drawers for under $100 on Amazon.
Average college class ($1,000) "expensive"
iPhone ($1,000) "a necessity"
Most people use financial aid to afford college if their income is that low. And what those subjects have in common is, as I said above, payment plans. Though I wouldn't advise it, you can lease an iPhone. If financial aid doesn't cover the full cost of college, most people can work something out with the school. Note that schools are also a business.
Kid's summer camp ($180) "too much"
New pair of shoes ($180) "they were on sale"
Hahahahaha!! This is one I'm almost certain would be the other way around. And let me say summer camp isn't a necessity and there's nothing wrong with a parent treating themselves to a new pair of shoes. Also, new shoes do not have to cost $180 to be of good quality. I wonder if there is some projection in these examples.
60 minutes of exercise "I wish I had time!"
60 minutes on Instagram "OMG time flies!"
I'll give a small pass for this one, if only for it being the least ridiculous comparison. However, you can do one hour of exercise and one hour of surfing on Instagram in the same day. Thus, I think this is moot.
60 minutes working your business – "I'm too busy"
60 minutes on Netflix – "Another episode!"
I prefer Hulu and Prime Video (for Pokemon), but Netflix and Disney+ rock too. And again, you can use two hours in a day separately. Well, if work took only an hour.
30 minutes of self-development – "I don't feel like it."
30 minutes of a murder mystery podcast – "let's listen to another"
I'm beginning to feel like this person has a weird sense of time. And what does self-development mean in this context? Reading a book about self-love?
Health products ($100) "too expensive"
Starbucks every other day ($100) "I need it"
Exactly what kind of health products are we talking about here? Health products can be a "treat" too. If they were a necessity, they'd probably be prescribed by a doctor.
Like I said, the context of this is what makes it terrible more than the message itself. I don't totally hate this one, but it ultimately is still shaming people for how they spend their time and money. I could see this one being okay only if someone were constantly complaining, and still not for the sake of promoting MLM.
If someone is prioritizing eating, I think they have their priorities correct.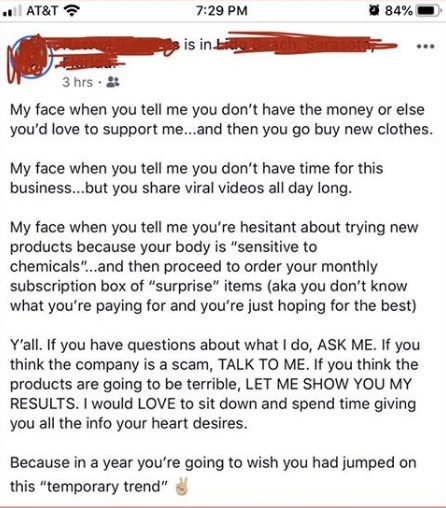 This one is funny and enraging because the entitlement is so blatant! She really thinks people shouldn't buy themselves clothing, should customize their social media how she wants, and shouldn't use products they are familiar with (if someone is subscribed, they likely know what comes in the box) and works well for their skin.
No, in a year, I'm going to still be pointing and laughing.
Last, but sadly, not least:
I can't stop laughing. She is angry. She calls other people's lives bad and assumes they're unhappy because they refused to buy from her. She is really angry people spent their money on what they want instead of buying from her because she begged. And now, they won't get a free oil set! What a pity!
If she's in bad debt, that sucks, but that's ultimately her problem. She can't rely on other people to pay off her debt for her.